Michigan has a surprisingly high number of excellent breweries producing exceptional beer. Michigan's total of more than 80 beer-makers ranks fifth nationally.  Two of our very favorites are Arbor Brewing Company out of Ann Arbor/Ypsilanti and Dark Horse Brewing Co. out of Marshall and, when we heard they were working on brewing another beer together, well, we just had to check it out.
In 2007, the owners of Arbor Brewing and Dark Horse, Matt Greff and Aaron Morse, respectively, decided to collaborate on a beer. They wrote the recipe down on a napkin late one night after much drinking. They named it "Dark Corner", a mash-up of Dark Horse and The Corner Brewery, Arbor Brewing Company's Ypsilanti brew pub. They split all of the raw materials used to make the beer right down the middle; the hops, the grains, everything. Then, using the same recipe, they set out to each brew their own version of an Imperial Brown ale.   The only difference between their beers is the yeast, the water, and the brewer's technique. Because the yeasts used by individual breweries is essentially a "fingerprint" of that brewery, you would expect a somewhat different result when two breweries make the same beer. Throw in regional variations in water chemistry and each brewer's differences in style and what you get are two similar but still remarkably different results. The first batch of the Imperial Brown was released in the summer of 2007 and, although the two breweries intended to make this an annual thing, time got away from them until last fall when they decided it was about time they released another Dark Corner ale.
The Imperial Brown ale is described by the brewers as follows:
Style: Imperial Brown Ale
Strength: 7% (ABV)
IBUs: 26
Body: medium
Availability: Limited Release April 2011 – available while supplies last. 12oz bottles and 1/2 barrels.

It is an imperial brown ale with lots of rich malts for a pleasing palate with hints of toasted bread and caramel. Hops are floral and understated, which contributes to its balance and drinkability. A nice bold summer beer with a huge floral hoppy nose, medium body, and a well balanced palate full of bready caramelly malts balanced by rich floral hops. Medium carbonation contributes to the drinkability of this unique ale.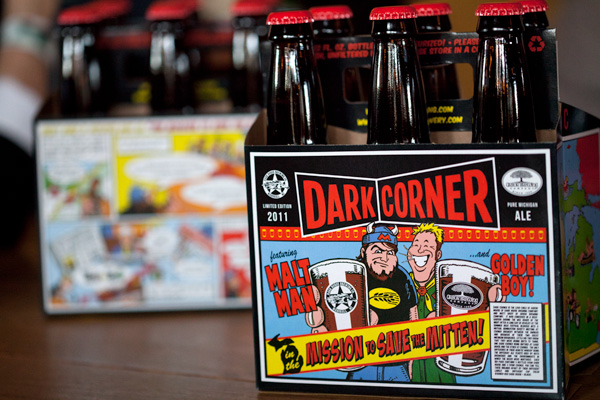 Matt's friend, John Tebeau, created an entertaining comic six-pack carrier featuring the two brewers as comic book characters along with a host of local politicians such as Congressman John Dingell and State Congresswoman Rebekah Warren. Each beer has a slightly unique label with different colored caps. In stores, you can purchase mixed six-packs with three of each beer. Quirky state law in Michigan prevents the breweries themselves from selling mixed six-packs.
Wanna try these two versions of the same beer? Here are a few opportunities.
APRIL 1
Whole Foods: 4pm – 7pm
Official Ann Arbor Happy Hour Release! Featuring both versions of the Dark Corner on draft. Matt and Aaron and the brew-team will be on hand for sixer signing.
Ashley's: 8pm – 11pm
Official Ann Arbor Evening Release! In addition to both Dark Corners, Ashleys will be serving up a two year old Flamboyant Wild Red (there's only a 1/6 bbl of it so get there early!), Ryeclops Imperial Rye, Hoptown Brown, Espresso Love and a firkin of cask-hopped Arborealis.  They will also have several specialty taps from Dark Horse (Plead the Fifth Imperial Stout, Double Crooked Tree IPA, Raspberry Black Ice, Super Juice Imperial IPA and Ginger in the Rye Imperial Red/Ginger/Rye/Barrel Aged Whatever). Matt and Aaron and the brew-team will be on hand for sixer signing

.
APRIL 8
Crunchy's – East Lansing: 4-7pm
Official East Lansing Happy Hour Release! Matt and Aaron and the brew-team will be on hand for sixer signing.
Graydon's Crossing – Grand Rapids: 8pm – ??
Official Grand Rapids Evening Release! Matt and Aaron and the brew-team will be on hand for sixer signing.
What did we think?
Although we really have no idea what we are talking about when it comes to describing beer, here is our take on the two versions of Dark Corner: We found the Arbor Brewing Company's version to be slightly hoppier and brighter than the Dark Horse brew. Dark Horse's version is a bit more complex with more "Brown" characteristics compared to ABC's more "Imperial" character. But both beers are eminently drinkable and delicious.