I am so ready for spring. I am craving greens to eat and I want to see green. I want to lose the gloves and hat and sit on my deck and feel the warm spring sun on my face. We are not quite there yet, but we are close. Here in southeast Michigan there are still patches of snow on the ground — still visible in areas of shade or where it was piled up. However, in our garden, the snow is gone and left behind is all brown with a splash of green. The green is from the kale. I thought I had picked the last of it in early February, but I was wrong. The cold and snow this winter just beat me up pretty good, but not the kale. It is still crisp and green and irresistible.
Kale is my hero.
I didn't grow up eating kale and didn't really start eating it on a regular basis until a few years ago. I now consider it one of my favorite foods. Chris and I saw a car not too long ago with a bumper sticker that read "Eat More Kale" and up until recently I would have thought it was kind of random, but now I totally understand what that bumper sticker preaches. Keep reading this blog and you'll be rewarded with several of our favorite recipes for kale throughout the year. Not only does it taste nutty and wonderful, it is one of the healthiest foods you can eat. Check out what Whole Foods has to say about kale and see what you're missing if you haven't incorporated kale into your diet.
So, to create a seasonal dish, utilize the last of my kale, and to tie into St. Patrick's Day this week, I was going to make the traditional Irish recipe Colcannon. That was until I saw this recipe for twice-baked Irish potatoes with stout, onions, and kale by Ivy Manning, from her The Farm to Table Cookbook. Yum!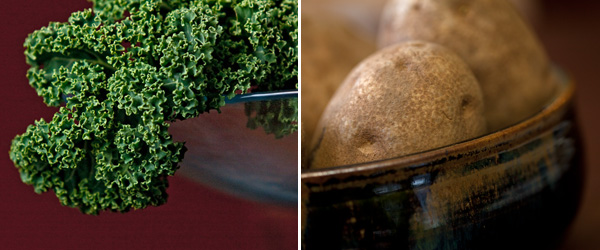 Twice Baked Irish Potatoes with Stout, Onions, & Kale
4 large russet potatoes, scrubbed (8 to 10 ounces each)
1 tablespoon plus 1 teaspoon olive oil, divided
1 1/2 cups thinly sliced onions (about 1 large)
1 cup Irish-style stout
1 bunch lacinato kale or Russian kale (about 3 ounces)
1 cup buttermilk
2 tablespoons butter, at room temperature
1/2 teaspoon mustard powder
Salt and freshly ground black pepper
1 cup grated cheddar cheese
Preheat the oven to 400 F. With a fork poke holes in the potatoes and then rub them with 1 teaspoon of the oil and place directly on the oven rack. Bake until they squish easily when gently squeezed, 45 minutes to 1 hour.
Heat the remaining 1 tablespoon of oil in a large sauté pan over medium heat. Add the onions and cook, stirring frequently until they begin to brown, about 15 minutes. Add a splash of the stout and scrape up any browned bits. Continue to cook, occasionally deglazing the pan with the stout until the onions are deep brown and nearly all of the stout is used, about 30 minutes total.I am using Michael Faricy's Stout from one of our local brewers, Arbor Brewing Company, in Ann Arbor. This stout used to be called Faricy Fest Irish Stout.
Tear the tough ribs and stems away from the kale and discard or use for stock. Roughly chop the leaves and add half the kale to the onions, tossing with tongs to wilt the leaves. Add the remaining kale, toss, cover, and cook until tender, about 5 minutes. Remove from the heat.
With a serrated knife slice off the top quarter of each potato. Use a soup spoon to scoop out the flesh, leaving a 1/4-inch-thick shell on the bottom and sides. Mash the flesh with the buttermilk, butter, and mustard powder. Gently fold in the onion-kale mixture and season with the salt and pepper. Mound the mixture into the potato shells, sprinkle the tops with the cheese, and place on a baking sheet. Bake until the cheese is melted, about 20 minutes.