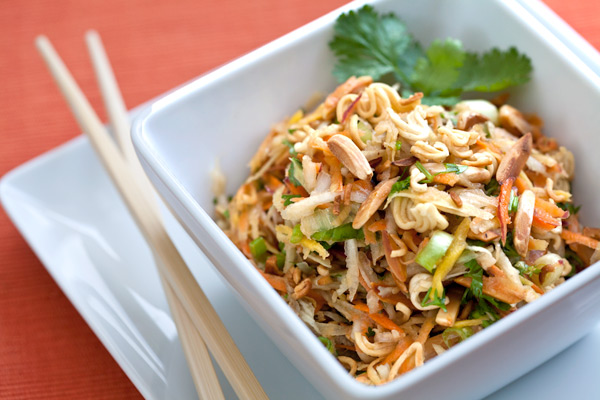 I'm not a big fan of cooking when it's this hot, so I'm taking advantage of a few foods in my garden that I can eat without turning on the stove. The carrots are ready and so is the kohlrabi, so how about a kohl-slaw?!
Two years ago my husband was given purple kohlrabi seeds, so that summer we planted kohlrabi, and they just stayed in the ground and got really large because we had no idea when to pick them or how to eat them plus we had no clue what they tasted like. We were not very inspired to harvest the alien-like vegetable we knew nothing about. However, we were not ready to give up so we learned a little about them and grew another row.  This time we picked one when it was small, about the size of an apple, cut it open and tried it. Now we're hooked.
Although kohlrabi is in the cabbage family and is described as "turnip cabbage", I think the taste is more like a combination of broccoli and radishes. It's fair to say that George H.W. Bush would not like kohlrabi, but for me, a huge fan of both broccoli and radishes, I love 'em. I'm willing to bet they can be found at the farmer's market right now.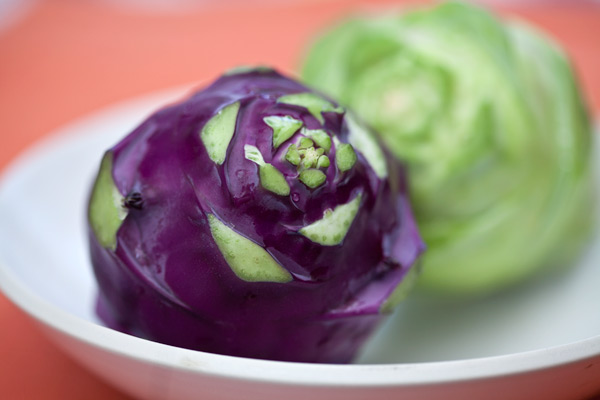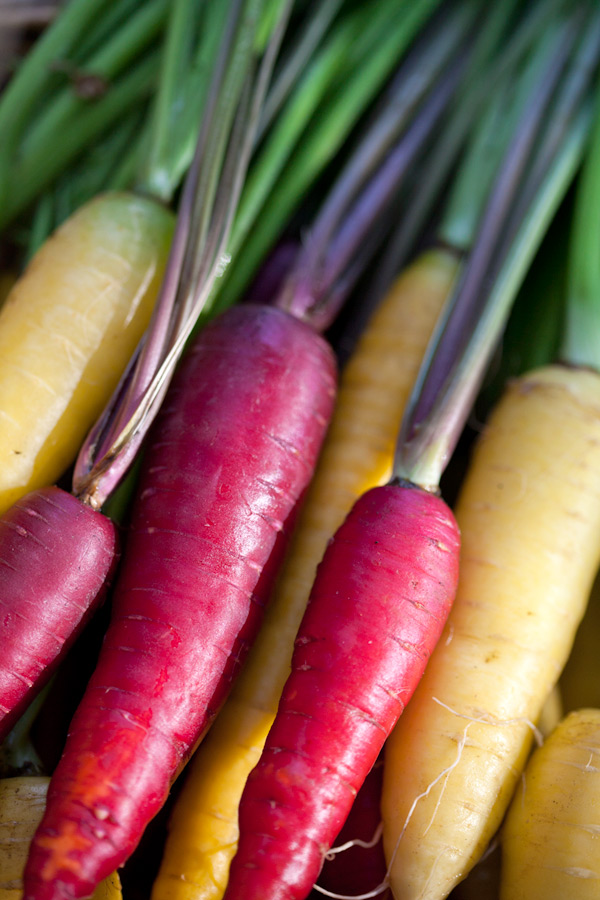 The carrots I used in my slaw were Cosmic Purple and Amarillo (yellow) from Baker Creek Heirloom Seeds. These carrots were also seeds given to us and like the kohlrabi we will continue to grow them. In addition to their fabulous flavor they are just cool looking and add nice color to any recipe. The purple carrots are actually orange and yellow inside and look almost exotic when they are sliced.
Here is my version of an asian slaw partially inspired by a salad my mother discovered a few years ago, the Crunchy Asian Salad or Ramen Noodle Coleslaw.
Asian Kohl-Slaw
Dressing
1 cloves garlic, minced
1 Tablespoons fresh ginger root, minced
1/4 cup olive oil
1/4  cup sesame oil
3 Tablespoons rice vinegar
3 Tablespoons tamari
2 Tablespoons honey
2 Tablespoons vegetable broth or water
2 Tablespoons toasted sesame seeds (optional)
In a small bowl add the honey and vegetable broth (or water) and microwave for 30 seconds to dissolve the honey. Blend all of the ingredients together, except for the toasted sesame seeds. If you have an immersion blender it will help blend the garlic and ginger and make the dressing creamy. Add the sesame seeds and chill for several hours.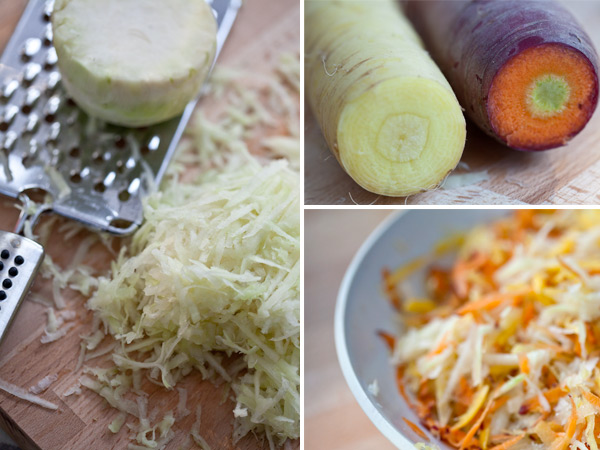 Slaw
 3 medium kohlrabi bulbs peeled and grated (cut bottom 1/4 of the root side off and discard)
4 carrots, grated
6 scallions, white and light-green parts, chopped
1/3 cup fresh cilantro, chopped
1 cup slivered almonds,  dry roasted
one packet ramen noodles, dry roasted (discard flavor packet)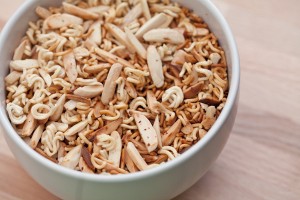 In a bowl toss the kohlrabi, carrots, green onions and cilantro and chill. Break up the ramen noodles into small pieces. In a pan over medium heat, dry roast the ramen noodle pieces and slivered almonds until lightly browned. Stir constantly to keep from burning. Put the toasted noodles and almonds in a bowl and set aside to cool.
Right before serving toss slaw mix, toasted almonds and noodles and dressing.