This is my favorite pastry recipe and I use it for just about anything that calls for a crust. It's nearly impossible to mess up and it makes a very flavorful, crunchy crust. The recipe makes enough dough for three single layer 9″ pies or two double crust 9″ pies. I usually role out the extra dough and form it into greased metal pie or tart pans and then freeze them. That way I have a pie crust ready to go for a quiche or any other recipe that calls for a pie crust. You can also make several disks from the dough for pot pie tops and freeze them for another quick and easy meal.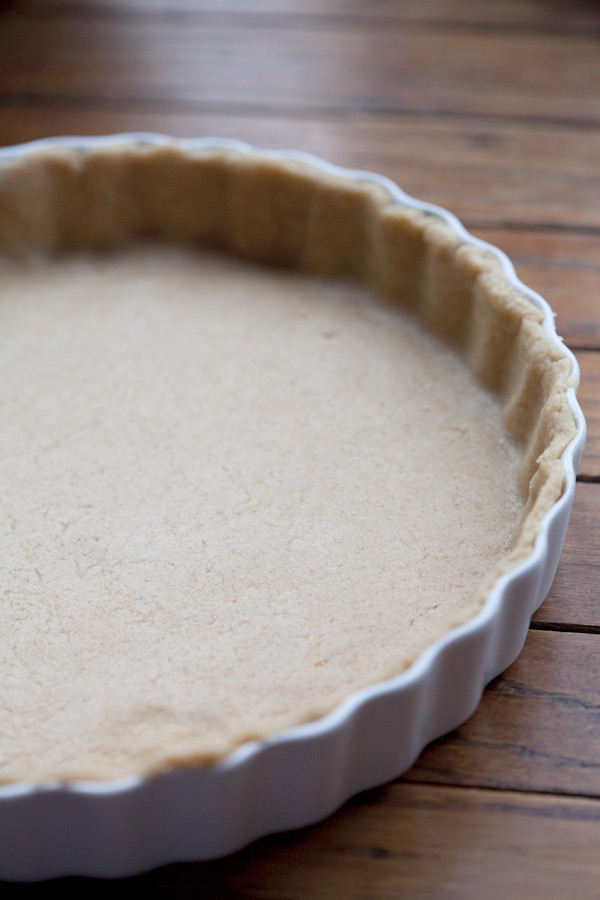 Basic Whole-Wheat Pastry
From the cookbook American Whole Foods Cuisine
Ingredients:
3 1/2 cups whole wheat flour
1/2 teaspoon salt
1/8 teaspoon baking soda
1 teaspoon baking powder
1/2 cup unsalted butter
1/4 cup oil
1/2 tablespoon of honey
1/4 cup fresh lemon juice
1/3 to 1/2 cup of water
Instructions:
Combined flour, salt, baking soda and baking powder in a bowl.
Combined butter, oil and honey in a food processor fitted with a plastic blade or a stand mixer with a flat beater. If you don't have a food processor or stand mixer, this can also be done by hand with a wood spoon — it will just require a lot more effort and patience. Whip to the constancy of soft margarine. Do not let the butter soften too much and cut the stick into pats before whipping. Add the dry ingredients to the whipped butter and process mixture until dispersed into tiny balls. Mix in lemon juice and then water. Start by adding 1/3 cup of water and mix until dough can be formed into a ball. You may need to add a little more water if the dough seems to dry to roll out.
Divide the dough into three balls and roll out to the size of your pan. I like to moisten the counter top and lay down a piece of plastic wrap on top, and then roll my dough out on the plastic wrap. This makes getting the dough into the pie pan much easier by lifting it up off the counter with the plastic wrap. Freeze extra dough by rolling it out and forming it into greased pie pans or store in the refrigerator for up to a week.
Click HERE for my Herbed Zucchini Tart recipe.