I'm beginning to see signs everywhere advertising "Michigan sweet corn sold here".  It's a food that I can't resist and have yet to meet anyone who doesn't like fresh sweet corn. As Garrison Keillor said, "Sex is good, but not as good as fresh, sweet corn."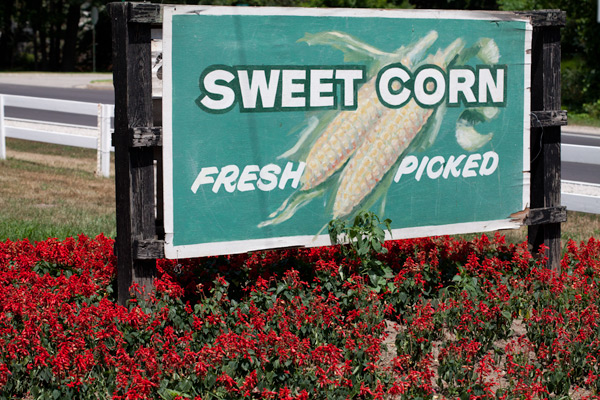 Several years ago, Chris and I decided to grow our own corn. We used a large chunk of our garden and babied the corn for several months. We were very pleased with our crop and about two days before it was time to harvest the corn, the raccoons devastated the entire crop and left us with zero ears of corn. It was kind of depressing, actually. Since that year we have never tried growing it again. We leave the corn growing to the professionals, and every year we make our way to the farmer's market and buy 3-4 dozen ears of sweet corn and roast it as soon as we get home. We freeze most of it for future recipes. For more on roasting and preserving corn go HERE.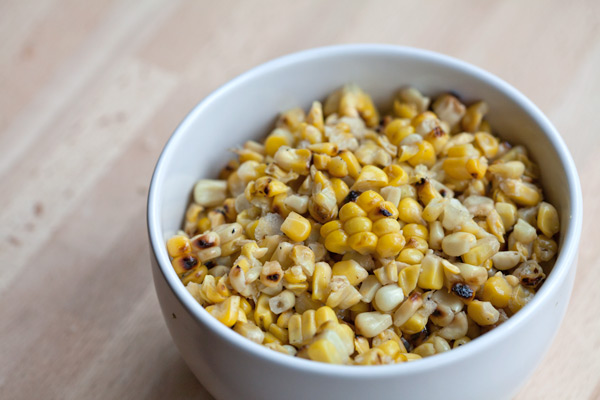 This is Chris' recipe and it has been changed quite a bit from the original recipe he found in the Detroit Free Press many years ago. The only thing I added was the roasted corn. I love what the roasted corn does to the flavor of this chowder, but you don't have to make it with roasted corn. It's still a very good soup even with frozen corn. I have even seen frozen roasted corn in some stores.
Roasted Corn Chowder
(Approximately 10 servings.  Preparation time: about 75 minutes)
Ingredients:
6-8 cups fresh roasted corn cut from the cob (approx. 10-12 ears of corn)
1 tablespoon olive oil
2 cups onion, chopped
½ cup celery, diced
2 cloves garlic, minced
1-2 jalapeno peppers, chopped
32 ounces chopped or whole tomatoes (canned or fresh)
1 cup chopped carrots
1 cup chopped red bell pepper
3 cups vegetable broth
2 cups diced raw potato (1 large russet)
1 tablespoon dried oregano (or ⅓ cup fresh)
1 tablespoon parsely (or ⅓ cup fresh)
2 teaspoons salt
¼ cup all-purpose flour
½ teaspoon black pepper
¼ – 2 teaspoons chipotle pepper powder
2 cups skim milk
1 teaspoon Worcestershire sauce
Note:  The chipotle pepper powder is an essential ingredient.  Chipotle peppers are smoked, dried red jalapenos.  They give a wonderful smoky flavor plus heat.  For a less spicy soup, you can used smoked paprika as well.
Directions:
Process carrots, red pepper, tomatoes and half of the corn in a food processor or using an immersion blender until smooth; set aside. This can be done in several portions if necessary.
Heat olive oil in a large pot and sauté onion, celery, jalapeno peppers and garlic over medium heat until tender, about 10 minutes.  Stir frequently to avoid burning garlic.
Add oregano and parsley and cook while stirring for 2-3 minutes then add the broth, potatoes, and salt. Bring to boil.  Reduce heat and simmer, uncovered, for 20 minutes, stirring frequently, until potatoes are soft.
Add the corn puree mixture & remaining corn and cook 10-20 minutes. It's important to cook over moderate heat after this point so you don't burn the sugary corn puree.
Place flour, chipotle powder and black pepper in a small bowl.  Gradually add milk and Worcestershire sauce, blending with a wire wisk.  Gradually add this mixture to the chowder while whisking.  Stir well then simmer over medium heat for at least 15 minutes, stirring frequently to avoid burning on the bottom of the pan.
Garnish options:  Cilantro, chopped chives or green onions, diced jalapenos, sour cream, hot sauce, oyster crackers, smooshed up tortilla chips.
I highly recommend serving it with cornbread and honey. The sweetness balances nicely with the smokey and spicy flavors of the chowder.