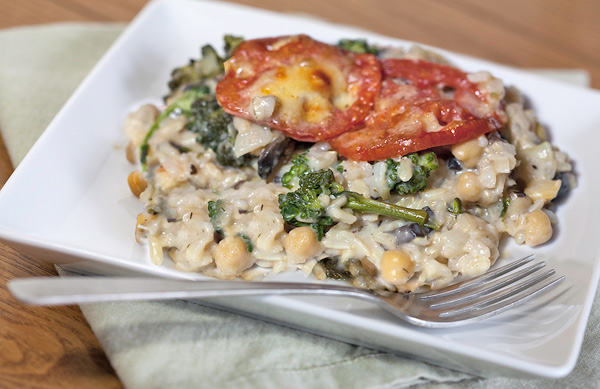 Much of my experimental cooking comes from the fact that I hate to waste food. When I have too much of something I look for a recipe or come up with a recipe that utilizes what needs to be eaten. Saturday, my husband Chris  announced, "We don't have any more room in the fridge for all this broccoli, we really need to eat it."
The broccoli kind of came on all at once in the garden. Sure we could freeze it but it wasn't really enough to warrant that, and we thought enjoying as much of it fresh as we could was a better option, so we decided to make a broccoli and rice casserole.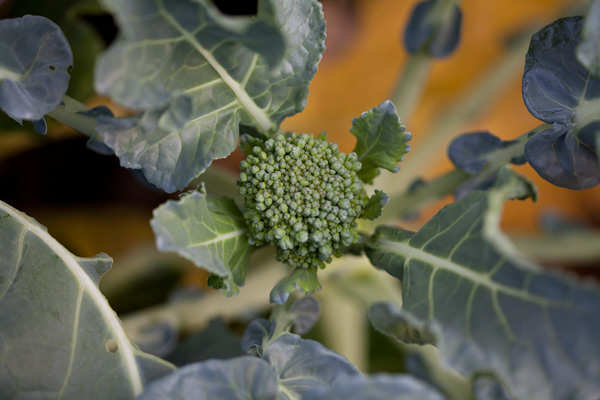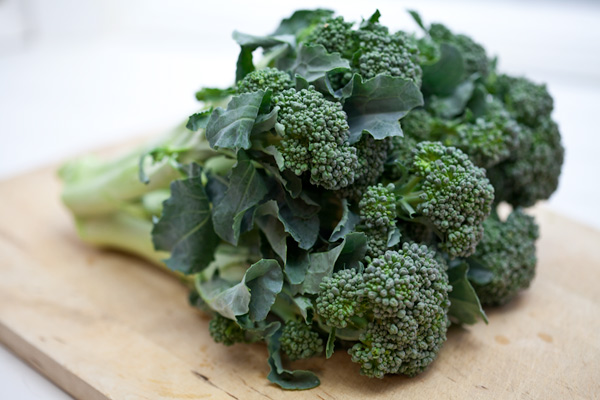 Chris and I collaborated on this recipe, which we often do. I saw a recipe for a broccoli casserole that called for chick peas and, since we almost always have chick peas around, we started there. The combination of chick peas and brown rice would take it from just a side dish to a main course and that's good when you are trying to simplify dinner plans. Chris made a roux, similar to the one he uses to makes his mac 'n cheese and we combined that with sharp cheddar, portabella mushrooms and a little lemon pepper for the spice. It was creamy and stayed very moist. We doubled the recipe for lots of leftovers and discovered that letting it sit improved the flavor even more. I recommend using vegetable broth to cook the rice and also, the better the cheese you use, the better the flavor.

[print_this]
Broccoli Casserole
Ingredients:
¾ cup brown rice
1½  cups water or vegetable broth
4 cups broccoli, chopped
2 tablespoons white flour
2 teaspoons lemon pepper
1 tablespoon salt
½ teaspoon ground black pepper
2 garlic cloves, minced
1 medium portabella mushroom cap, diced small
2 teaspoons olive oil or butter
1 cup diced onion
2 tablespoons butter
2 cups milk
1 cup + 1/3 cup shredded white cheddar cheese
1 ½ cups cooked chick peas
1 tomato, sliced thin
½ cup Italian bread crumbs (optional)
Directions:
Combine the water and rice, bring to a boil, then simmer 50 minutes.
Preheat oven to 375 F.
Lightly steam the broccoli until just tender.
Combine the flour, lemon pepper, black pepper, salt and garlic in a small bowl.
Dice the mushroom and sauté in 2 teaspoons of olive oil or butter. Cook until no mushrooms are longer watery. Set aside.
Melt the butter in a medium saucepan. Saute the onions on medium-high heat for about 5-7 minutes, stirring frequently.
Add the flour mixture and cook for 1 minute, stirring and scraping constantly to avoid burning.
Add the milk in portions, beating with a wire whisk. When all of the milk is in, increase heat and bring to a boil, whisking constantly. When mixture begins to bubble and thicken, decrease heat and simmer for 5 minutes.
Add 1 cup shredded cheese and stir in until completely melted. Stir in cooked mushrooms.
Combine the broccoli, rice, cheese sauce, and chick peas in a 2 quart casserole dish. Layer with sliced tomatoes then top with 1/3 cup shredded cheese or bread crumbs. Bake for 35-40 minutes until cheese is just brown and mixture is bubbly.
[/print_this]