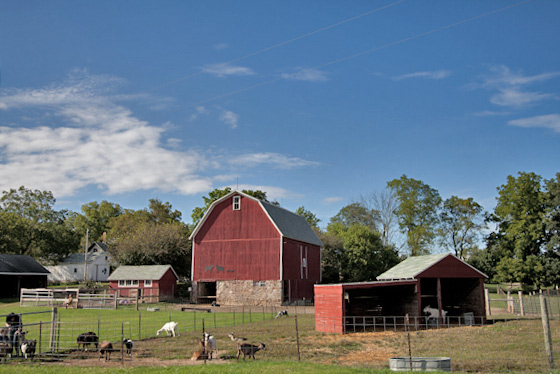 On Saturday I had the privilege of being a judge for the chili cook off at SASHA Farm's Fall Festival. I had heard much about SASHA Farm but had yet to visit until now.
SASHA Farm is the largest farm animal sanctuary in the midwest and is sheltering and caring for more than 200 animals. SASHA, which stands for Sanctuary and Safe Haven for Animals, is located in Manchester, MI. Despite the fact that many of the animals at the farm have come from less than desirable circumstances, they are now living out their lives in a happy, safe environment, and you can't help feeling good just being there.
When I arrived at the farm I was given a tour of the place and met many of the animals and learned about how each of them found their way to SASHA farm. There was one animal in particular that I met on the tour that made an impression on on me. Her name is Helen and she was born on a dairy farm. Shortly after being born it was obvious that there was something physically wrong with her. She was diagnosed with cerebellar hypoplasia, an underdevelopment of certain areas of the brain and, since it was clear that she could not be a dairy cow she, thankfully, was not euthanized. Instead, she was given a chance to live out her life at SASHA Farm.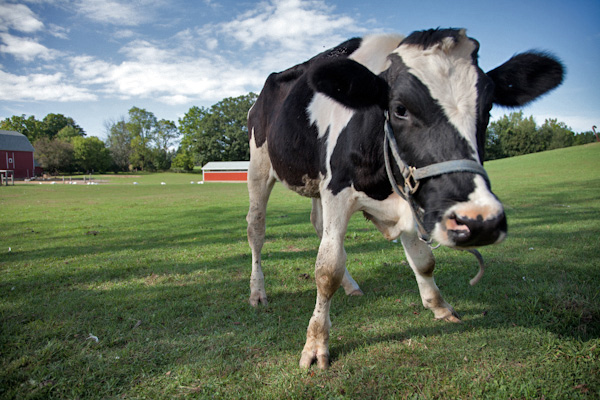 She stood funny, was very clumsy, and when she walked it looked as if she would fall at any moment. Throughout the event I kept an eye on her and would watch her awkwardly cross the field, graze and socialize with the other animals. She loved to visit with people and was gentle and sweet and, as was clear to all who met her, very happy. Helen served as a reminder that ALL animals are individuals, which is not something most people think about when they think of farm animals. Click HERE to learn more about how you can help support SASHA Farm.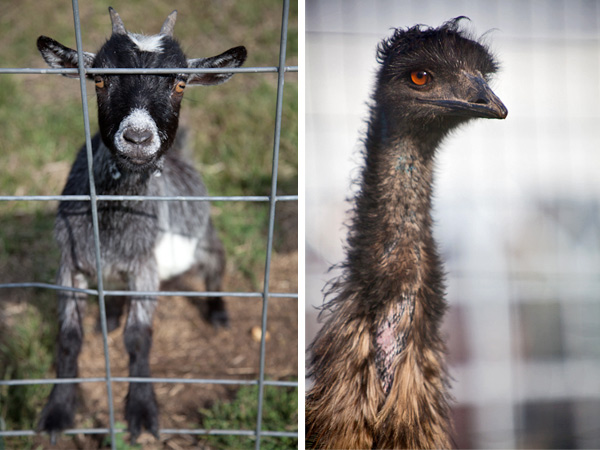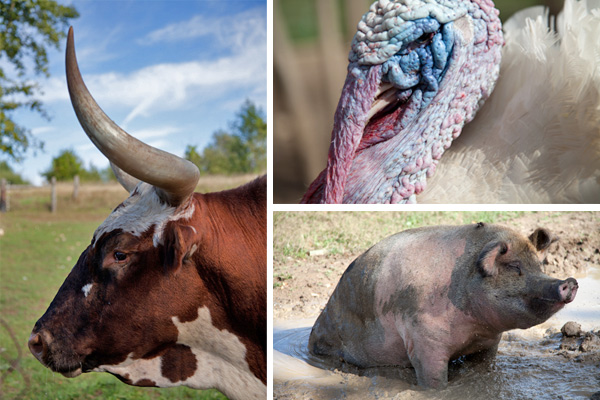 SASHA Farm's Fall Festival and chili cook off was a fundraiser to raise money for the farm. This chili cook off was unique in that the chilies were all vegan recipes. I was amazed at the variety and creativity of the entries and had a difficult time choosing a favorite.
The winner of the cook off was Neha Shah, of Ann Arbor, with her Chewey's Chili which she made with all organic ingredients. This recipe makes a huge pot of chili and can be halved or even quartered very easily.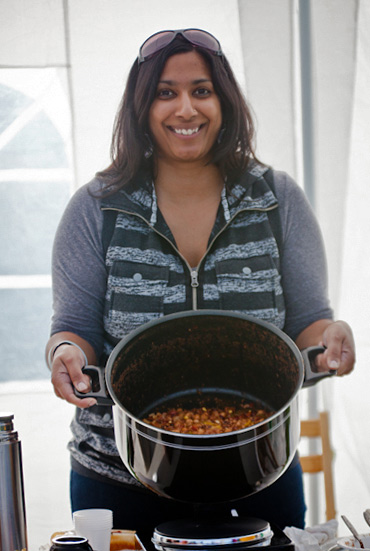 [print_this]
CHEWEY'S CHILI
Ingredients:
4 tablespoons olive oil
1 cup chopped white onion
1 cup chopped red onion
½ cup chopped shallots
1 tablespoon dried chives
6 cloves garlic, minced
½ cup chili powder
2 teaspoons ground cumin
2 teaspoons dried oregano
1 bay leaf
½ teaspoon cane sugar
½ teaspoon allspice
½ teaspoon ground cinnamon
2 teaspoons sea salt, or to taste
5 cups beans, drained (Neha uses a combination of black, northern, garbanzo, kidney and pinto)
¾ cup zucchini
¾ cup yellow squash
2 1/4 cup carrots (Neha uses white carrots, purple carrots, orange carrots)
¾ cup sweet corn
1 Italian sweet and spicy pepper (vary according to your comfort level)
1 Hungarian wax pepper (vary according to your comfort level)
2 1/4 cups chopped red pepper, yellow and green pepper
6 cups chopped tomatoes
1 cup reconstituted TVP (textured vegetable protein)
1 cup water
1 1/2 cups potato (Neha uses a combination of white and red)
¼ cup cilantro for garnish
15 lbs of Chewey's love (that is how much her rescue dog, Chewey, weighs) or insert your favorite rescue animal here!
1.  In an 8-quart multi-purpose pot, heat the olive oil over medium-high heat.  Add the red and white onions, shallots, garlic, Italian sweet and spicy pepper, and Hungarian wax pepper; sauté and stir until softened, about 3 minutes.  Stir in the chili powder, ground cumin, dried oregano, ground cinnamon, and allspice, until absorbed.
2.  Stir in the water, tomatoes, red, yellow, green peppers, bay leaf, cane sugar, sea salt, chives, and potatoes; bring to a boil.  Reduce heat and simmer, covered, 20 minutes, stirring occasionally.
3. Add the reconstituted TVP, all the beans, zucchini, yellow squash, sweet corn, and white, purple and orange carrots; simmer, covered, 20 minutes longer or until chili is slightly thick, stirring occasionally.  Discard the bay leaf.
4. Garnish with cilantro and serve with blue corn chips.  Must share with friends!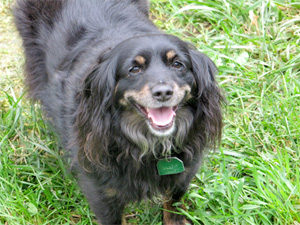 Neha Shah is an urban gardener, ecological and social justice advocate, and fifth grade teacher at King Elementary School in Ann Arbor.  A few years back she heard about Sasha Farm from a friend and immediately fell in love with the animal sanctuary.  Neha is devoted to sponsoring animals at the farm.  She is currently sponsoring George the Emu.  She also loves to travel, grow her own organic food, play with her animals and any animals for that matter, as well as engage in community collaboration and eco-activism.  Her dog Chewey, who is a rescue from St. Croix, was the inspiration behind Chewey's Chili.
[/print_this]