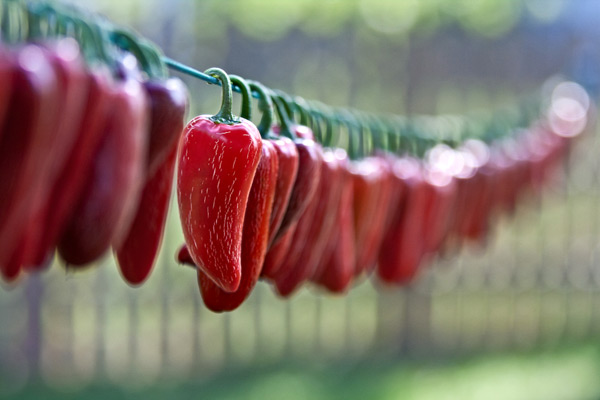 If there is one signature Savage recipe, this is it: baked stuffed jalapeno poppers. We wait till the peppers are red and most flavorful, then we stuff them with a mixture of cheese, fresh herbs, garlic and onion to give them a flavor that is beyond fabulous!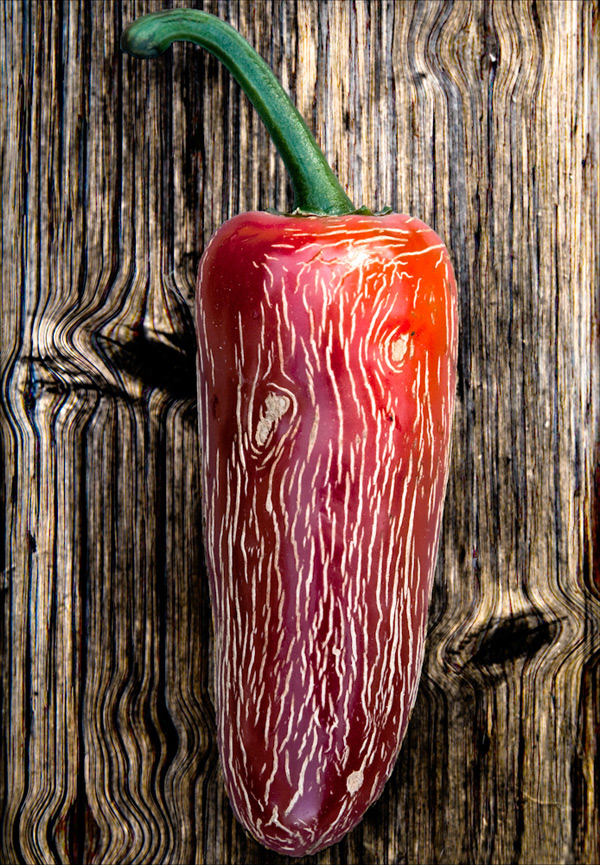 If you don't like hot foods, well, this recipe is not for you. I guess you could do this with mini bell peppers or with small mild chili peppers, but that would be no fun.
We grow tons of jalapenos (mostly Biker Billy hybrids from Burpee) and make anywhere from 400-600 poppers in the fall. We partially bake them in the oven and then freeze them in ziplock bags. Just pop the frozen poppers in the oven at 400°F and bake them for about 20-25 minutes, add some salsa and sour cream and you have yourself a quick and delicious meal.
Another way we use up all our extra peppers from the garden is to dice or slice them up, lay them in a single layer on a cookie sheet covered in wax paper and freeze them. After they are completely frozen, dump the frozen chopped peppers into a ziplock bag. This way you can grab handfuls at a time for different recipes. We do this with all our peppers, including bell peppers. Since we started doing this we haven't had to buy a single pepper in the winter.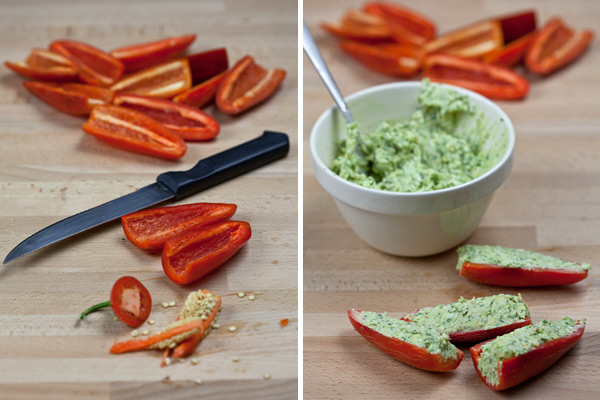 [print_this]
Stuffed Jalapeno Poppers
Ingredients
15-20 jalapeno peppers
8 ounces cream cheese or Neufchâtel cheese, softened
2 cups shredded cheddar, Monterey Jack, or other cheeses
2 tablespoons fresh oregano, chopped or 2 teaspoons dried
1/4 cup fresh parsley, chopped or 2 tablespoons dried
1/4 cup chopped fresh cilantro
1/2 cup onion, minced
2 cloves garlic, minced
2 teaspoons of cumin
2 eggs
1/2 cup milk
1 cup flour
2-3 cups of breadcrumbs (Use good quality and with Italian seasoning. Fresh breadcrumbs are even better.)
Instructions
Put on gloves before handling hot peppers. I know, I know, I had them off for the photo, and I paid dearly. So, do as I say not as I do and put some gloves on… now.
Before continuing, check hands to ensure they are covered with gloves.
Now, with gloves on, slice the stems from the peppers and cut in two lengthwise. Remove seeds and veins.
In a large bowl, mix together the minced onion, garlic and finally chopped or dried herbs. I usually just coarsely chop everything and then add them to a food processor and pulse till everything is fine, not soupy, but finely diced and mixed. This is especially helpful when doing multiple batches at a time.
Fill each pepper half with cheese mixture, slightly mounded. I use a butter knife for this step.
Beat eggs and milk together. Place three bowls in a row. In the first bowl add the flour, in the second the egg/milk mixture and in the third the bread crumbs.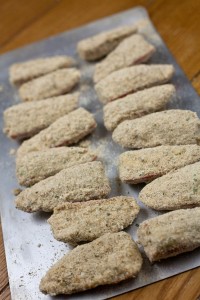 Dredge the pepper in the flour to lightly coat them, then dip the pepper into the milk/egg mixture. Next, coat the peppers with breadcrumbs. A good method for coating with breadcrumbs is to put the crumbs into a small bowl. Make a shallow well in the crumbs and put the pepper into it. Bury the pepper in more crumbs then press down gently. Grab the pepper gently on the edges and remove it from the crumbs, shaking it lightly to remove extra crumbs. I find it helpful to use one hand for the dry ingredients and one for the egg mixture or my fingers just get coated with flower and breadcrumbs and it makes a big mess.
Place the prepared peppers on a greased cookie sheet and bake for 30 minutes at 375°F or until golden brown and bubbly. You can also bake them for about 20 minutes then freeze them. Reheat at 400°F until browned, about 20-25 minutes.
For super hot poppers, mince up some of the veins you removed when cutting the peppers and mix them back into the cheese mixture. We do this to all our poppers. It gives them a nice even heat.
[/print_this]