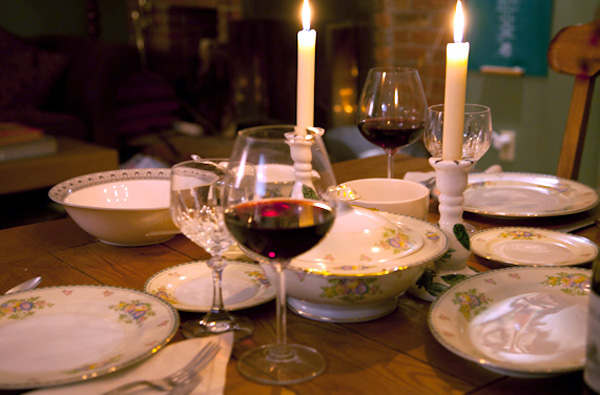 Because of conflicting schedules with family this year, Thanksgiving day ended up being just Chris and me. We debated about what we wanted to do that day since it was just the two of us. We tossed around the idea of doing our annual tamale-making fest that day rather than around Christmastime. We discussed going out to dinner or just having pizza and watching a bunch of movies. Ultimately we decided that we really wanted to have a Thanksgiving meal, a slightly toned down Thanksgiving feast, but one that still kept us in the kitchen for a good part of the day.
On Wednesday, before Thanksgiving, we shopped for the food. We filled our grocery cart and waited our turn in line to check out. We loaded the conveyor belt at the checkout counter with piles of food and watched the total go up as each item was rung through. It was one of the largest shopping trips we have had in a while. As soon as the last item was rung up, the checkout lady said, "Where's the turkey?" I said, "No turkey for us, we're vegetarians." She quickly replied, "Then what do you eat?"  I kind of laughed and pointed to the many bags of food and told her, "All of that." It took her a minute to make the connection and then she smiled.
That wasn't the first time I was asked where the turkey was when I went shopping for Thanksgiving. Despite popular belief, most of what people eat at Thanksgiving are vegetables, fruits, breads and desserts. Everything that Chris and I enjoyed for Thanksgiving we still eat and enjoy now, minus the turkey. So we enjoyed a Thanksgiving dinner for two that consisted of, Vegetarian Wellington, mashed potatoes, squash, peas, kale, gravy, herbed rolls and banana cream pie.
We started the day off with breakfast sandwiches on homemade whole wheat English muffins followed by a long hike and then back in the kitchen for more cooking. It was a great Thanksgiving.