In my last post I talked about what we had for Thanksgiving which included Vegetable Wellington as our main course. I've been asked by several people to post the recipe. This recipe is based on a recipe from the New York Times, Butternut Squash and Mushroom Wellington. When we saw it we decided it would be a fabulous addition to Thanksgiving. I highlighted the changes I made to the recipe below but I recommend you check out the original recipe, especially if you like goat cheese.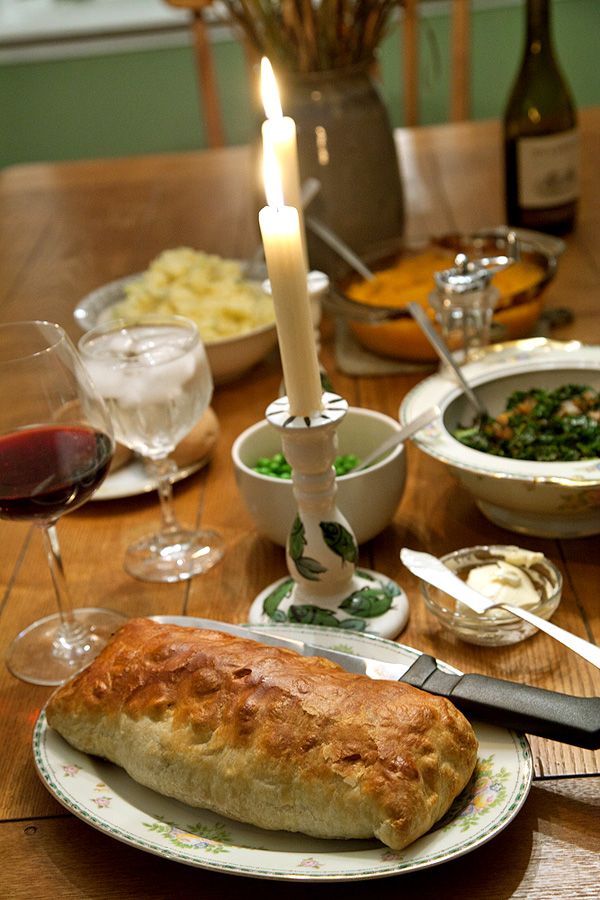 [print_this]
Vegetable Wellington (inspired by a recipe in the New York Times)
Time: 1 hour 15 minutes
4 tablespoons butter
1 small butternut squas, peeled, seeded and cut into 1/2-inch cubes (~1 pound)
4 carrots cut into 1/2-inch cubes
1 teaspoon maple syrup
1 teaspoon ground rosemary
2 teaspoons smoked  paprika
1/2 teaspoon kosher salt, or more to taste
4 garlic cloves, finely chopped
1 large shallot, finely chopped
3/4 pound portobello mushrooms, trimmed and roughly chopped
1/3 cup dry white wine
1/4 teaspoon ground black pepper
2 tablespoons chopped parsley
1 cup crumbled feta cheese
Flour
1 package puff pastry with 2 sheets
1 egg, whisked with 1/2 teaspoon water.
1. Heat the oven to 400 degrees and line a large baking sheet with parchment.
2. In a very large skillet over high heat, melt 2 tablespoons butter. Add the squash and carrots in a single layer and cook, undisturbed, for 4 minutes. (If it won't fit in a single layer, cook it in batches). Stir and continue to cook until squash is golden, 7 to 10 minutes more. Stir in the syrup, rosemary, paprika and 1/4 teaspoon salt; cook one minute. Scrape mixture into a bowl.
3. Turn the heat down to medium and melt the remaining butter in the skillet. Stir in garlic and shallot; cook 1 to 2 minutes. Add the mushrooms and remaining salt. Cook until mushrooms are soft and their juices evaporate, about 10 minutes. Stir in the wine and cook until the mixture is dry, about 5 minutes. Stir in the pepper and parsley. Taste and add more salt if needed.
4. On a lightly floured surface, unwrap the two puff pastry sheets and place side by side. Spread half mushrooms in the center of each pastry square. Spoon the cheese crumbles over the mushrooms. Then spoon the squash and carrot mixture over the cheese.
5. Brush the exposed borders of dough on each rectangle with the egg wash. Fold the long sides up to meet in the middle and pinch together to seal; pinch the ends, too. Transfer the pastries to the baking sheet and turn them over so that the seam is face down. Brush the tops with more egg wash. Bake until they are puffed golden, and firm to the touch, about 30 minutes. Let cool for 10 minutes, slice and serve.
[/print_this]