Making your own chips from fresh corn tortillas is a great way to take your Mexican dinner to another level. They would go great with, say, butternut squash enchiladas! If you can find a local tortilla maker, even better. Here are two examples in the Southeast Michigan area.
Ann Arbor Tortilla Factory
La Jalisciense Tortilla Factory
We would love to add more to this list so, if you know of another one in the area, please leave us a comment. For those of you outside of Southeast Michigan, just do a Google search for tortilla factories/makers in your area and find out where they sell their tortillas. Alternatively, just check the tortilla section in your store to see if any of them are made locally. Once you start making your own, you will never go back to bagged chips. Better flavor, better texture, lower fat, and they are much less expensive, too!
Preheat the oven to 400°F. In a small bowl, add two tablespoons of oil (less or more if you'd like). Brush both sides of the tortillas with the oil. We use a silicone brush because it is very durable and is easy to clean. We switched to this kind of brush because, over time, the regular bristle brushes would start losing their bristles. It doesn't hold as much oil as the bristle brush but I find that to be a good thing — it keeps me from using too much oil on the tortillas.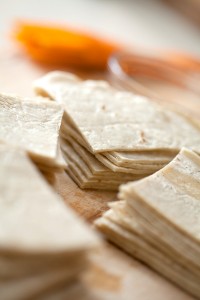 After you have brushed the tortillas with oil, stack them and cut the pile into sixths to make chips. Spread the chips out in a single layer a baking sheets and season with salt. I set my salt shaker to coarse. Bake until golden brown and crisp, about 12 to 15 minutes. The chip needs to be crisp all the way through. If it is still a little tough in the middle, it needs more time to bake. Watch them closely because there is a fine line between "just perfect" and "oh shit!"
So good with fresh guacamole or salsa or even hummus! Tips on making great guacamole, salsa and hummus, coming soon.