Toasted ravioli is a classic St. Louis, Missouri dish. Just about every restaurant in the Italian neighborhood, The Hill, has it on their menu as do many other restaurants throughout the area. I love 'em, and miss them since moving to Michigan 8 years ago. Chris and I travel to St. Louis every year for Memorial Day weekend but we had to miss this year because one of our dogs was very ill, and that left me a little homesick.  So, for me, this is comfort food. If you haven't had toasted ravioli, you are in for a treat, and when you make it for your family, I promise they will be impressed. They are not toasted, as the title suggests, rather they are breaded with Italian breadcrumbs and fried. Traditionally they are served with a marinara sauce but, because I like all things spicy, I serve it with an arrabiata sauce.
I make the pasta from scratch with whole wheat flour and, the first time I made it, I was shocked at how easy it was. If you have a pasta roller, even better! Start by making the arrabiata sauce and while it is simmering make the filling. While the filling is cooling make your pasta dough. My recipe below makes about 36-40 ravioli.
Arrabiata Sauce:
1/4 cup packed fresh parsley
1/4 cup olive oil
4 crushed garlic cloves
4 onions, coarsley chopped
5 1/2 oz. can tomato paste
2 Tbs. fresh basil
1 Tbs. fresh oregano
1/4 tsp salt
1/4 tsp. freshly ground pepper
2-3 tsp. crushed red pepper flakes
2 quarts of tomatoes or 2-28 oz cans whole tomatoes.
Directions:
1. Chop fresh parsley. Heat olive oil in a large saucepan. Set over medium low heat. Stir in parsley and crushed garlic. Cook parsley-garlic mixture, stirring almost constantly for about five minutes.
2. Stir chopped onions into saucepan. Continue cooking and stir often. Cook for about 10 minutes. This slow cooking process over medium low heat brings out the sweetness in the onions.
3. Add tomato paste, basic, oregano, salt, pepper and pepper flakes. Stir for two minutes. Stir in tomatoes, plus juice and break up tomatoes with fork as you stir. Simmer, uncovered and stirring often over medium low heat for 45 minutes.
Ravioli filling:
4 cups fresh spinach, chopped
1 tsp. olive oil
1/3 cup walnuts finely chopped
3 cloves garlic, crushed or chopped
16 oz. fresh mozzarella (Zingerman's Creamery has wonderful mozzarella and every Monday it is $2 off per pound!)
Pepper and salt to taste
Directions:
Heat olive oil in a sauté pan over medium high heat. Add garlic and nuts and sauté for 2-3 minutes. Add spinach to pan (half at a time if necessary) and sauté until water is reduced. Season with pepper and salt to taste. Place spinach mixture in a bowl and add diced or shredded mozzarella cheese and mix till evenly distributed
Ricotta pasta dough: (From the cookbook, American Wholefoods Cuisine)
1/2 cup ricotta cheese
1 Tbs. olive oil
1 egg
1/4 tsp. salt
1 3/4 cup whole wheat pastry flour
Directions:
I recommend using a Kitchen Aid but, if you don't have one, you can beat together ricotta oil egg and salt. Then add flour and knead with your hands to form a stiff dough. Kneading time will be 12-14 minutes.
To make in a Kitchen Aid, place the ricotta cheese, oil, egg and salt into mixer bowl with the flat beater attached, and beat at speed 2 for 15 seconds then pour in flour and mix for another 15 seconds. Exchange the flat beater for a dough hook and beat for another 2 minutes on speed 2. Remove dough from bowl and hand-knead for 2 minutes. Divide dough into six equal parts. Keep the balls of dough under a slightly damp towel until you're ready to roll them out.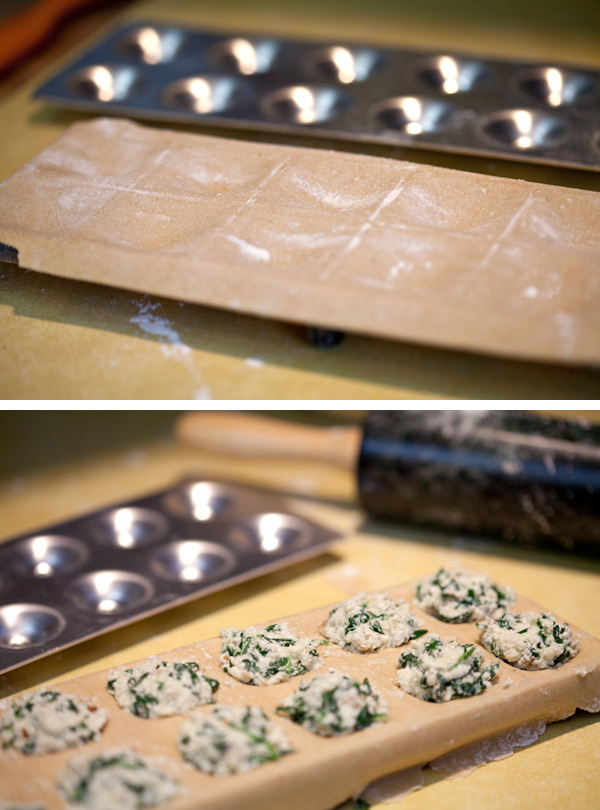 Making the ravioli:
There are at least a half a dozen ways to make ravioli. There are stamps and cutters and molds and even an attachment to the Kitchen Aid.  I use a metal form that has makes 12 individual ravioli.  They are easy to use and make the ravioli look very finished. Plus they hold together better for cooking.
Roll out one of the six dough portions to the size of the mold. Sprinkle regular flour on the counter top a bit and on the dough as you roll to keep the dough from sticking to the counter or rolling pin. Flour the bottom of the mold so the pasta won't stick to it either.
Lay one strip of pasta over the bottom plate of the ravioli maker. Make sure that the edges of the dough cover all of the cutting edges and extend past them at least 1/2 inch.
Push the forming plate gently down over the pasta. This will stretch the pasta slightly, making pockets in the dough and pushing it into the depressions in the ravioli maker.
Beat one egg and a tablespoon of water. Use a brush to lightly brush on the egg wash around the outer edge and in between each of the ravioli. This is the 'glue' that will seal the dough.
Fill each pocket with a small amount of filling. Put only enough filling into each pocket to reach the top of the pocket without heaping up over the edge. *(I like to use more filling than the molds allow and prefer that the ravioli be rounded on both sides. See my directions below.)
Lay a second sheet of pasta over the first sheet and filling, making sure that all the edges are covered.
With your rolling pin start at the center of the ravioli maker and roll gently toward the edges. With my maker you don't have to push that hard to get the mold to cut out each ravioli. Flip the maker over and separate the ravioli.
*If you have too much filling and roll the pin over the top it will squish out the extra filling and make a big mess. So, to solve this problem I would just use my fingers or the back of a small spoon and press between each ravioli along the cutting line on the mold to separate each ravioli. When you flip it over to separate each ravioli you can always use a knife if you missed a spot or didn't press hard enough. This way each ravioli is packed with filling and is rounded on both sides. I tried both ways and prefer this way of doing it.
If you don't have a ravioli maker and don't want to buy one, you can make them by hand.
Roll out a sheet of dough (A sheet that is about 6×8 will make 6 ravioli) and place 2-3 teaspoons of the filling on the dough one inch from the edge and two inches a part from each other or spaced apart enough so we'll be able to close and completely seal each ravioli dumpling. This may take a little bit of experimenting till you come up with the right amount of filling and spacing. Beat one egg and a tablespoon of water. Use a brush to lightly brush on the egg wash in the center, outer edge, and in between each of the dumplings to seal the dough together. Place a second sheet of rolled out pasta dough on top and press the dough together around the mounds of filling. Use a pizza cutter or ravioli cutter to separate the ravioli.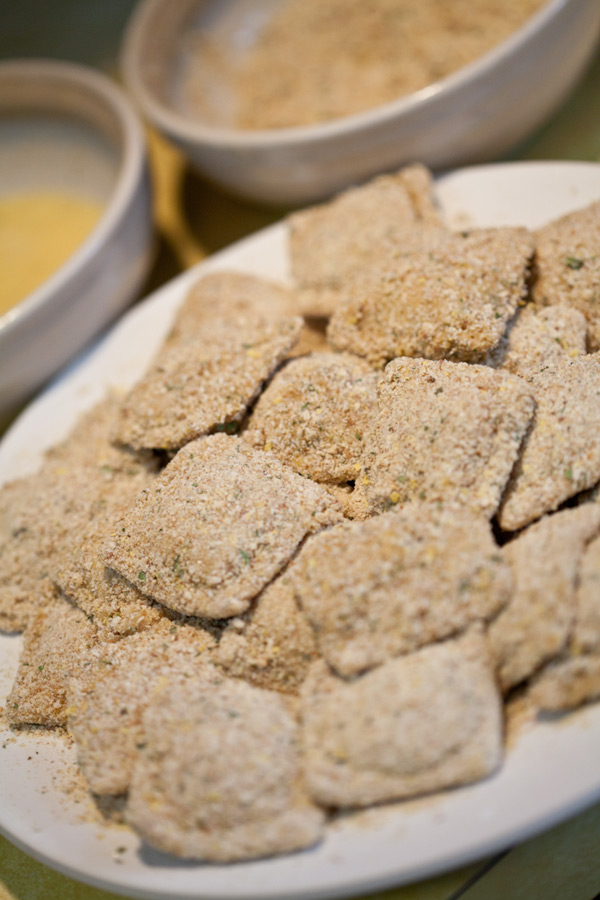 Ravioli breading:
2 eggs
1/4 cup of milk
2 cups of Italian bread crumbs.
Beat eggs and milk in a bowl. Put breadcrumbs to a separate bowl. One at a time, dip ravioli in the egg mixture and then coat with breadcrumbs.
Heat vegetable oil in a pan 1/2 inch deep to a temperature of 375 degrees (medium to high heat). Fry in batches for about 2 minutes on each side. Place on a paper towel after frying to drain. Serve hot with your choice of sauce.