Chris and I were walking the dogs the other day at Hudson Mills Metro Park in Dexter when we noticed that the maple trees were all set up to collect maple sugar. I did a story about this last year and think making my own maple syrup would be the coolest thing. However, not this year. You can tell by the infrequence of posts lately that I have become very busy. Maybe next year.
Anyway, seeing the maple syrup bags on the trees reminded me that I am due for another batch of granola. This recipe is my sister Kathy's recipe with is an adaptation of a few other recipes. A majority of my recipe is adapted from the blog katie did with some additions from Nut & Seed Granola from Feeding the Whole Family: Cooking with Whole Foods by Cynthia Lair.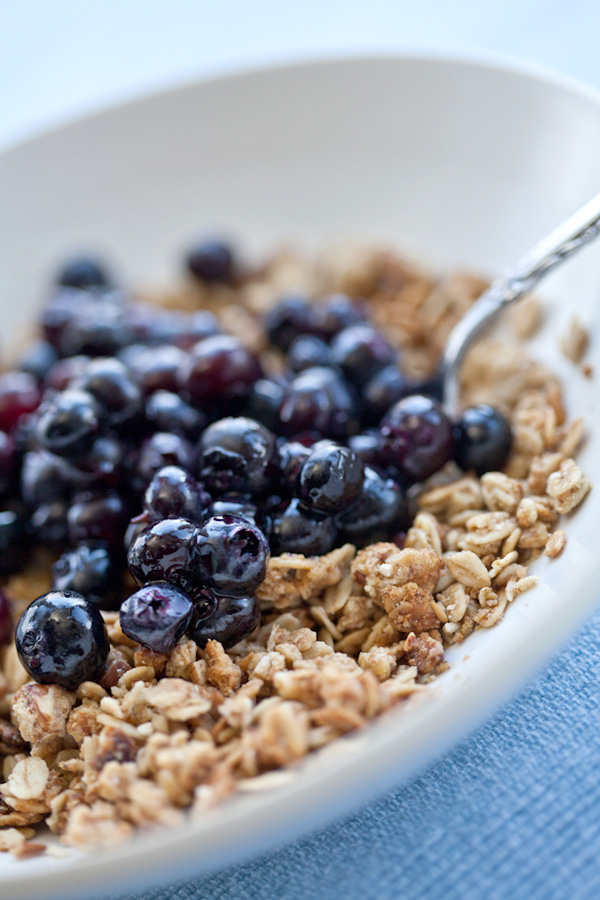 I know my sister is very busy with her work and two young girls so I'm very impressed that she started doing this. When I asked her what inspired her to make her own granola and she said:
I was inspired by two things: wanting to eat healthier and wanting to make more homemade food.  It's such an easy recipe and can be doubled, which would make it last even longer.  Plus it's versatile and can be eaten for breakfast, a snack or for dessert.
The 60's hippy food eventually gained a bad reputation once the mainstream cereal companies got a hold of it and removed much of the health fiber and added artificial sweeteners and extra fats and basically turned the artisan-made, preservative-free granola into candy. Lately granola has been building back its reputation of a whole and healthy food. I'm glad my sister reintroduced me. It has quickly become a staple in my diet.
The only thing I changed in the recipe below is that I added 1/4 less honey and a bit more water because the first time I made it it was a little too sweet. Maybe the honey I buy locally is just a bit sweeter. I HIGHLY recommend this recipe!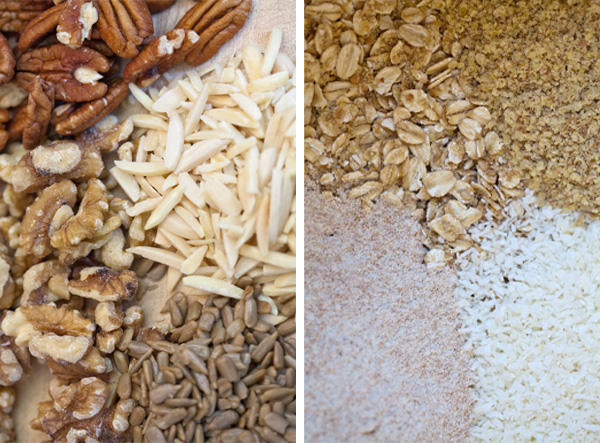 Granola
5 cups old fashioned rolled oats
1 cup whole wheat flour
1/2 cup wheat germ
1/2 cup ground flax seed
1 cup unsweetened coconut flakes
1.5- 2 cups sliced almonds, chopped walnuts, sunflower seeds and sesame seeds
1-2 teaspoons cinnamon
pinch sea salt
Mix above ingredients in large bowl
2 Tablespoons vanilla
1 cup honey
1/2 cup coconut oil
1/4 cup maple syrup
1/4 cup water (I use warm water to help break down the honey, syrup and coconut oil)
Mix wet ingredients in separate bowl.  Add to try ingredients and combine well. Spread in shallow pans lined with parchment paper.
Bake at 250°F until deep golden and almost dry, approximately 1 hour. Stir gently every 15 minutes or so while baking. Let cool and store in a tightly covered container in the refrigerator, if you have room.
[/print_this]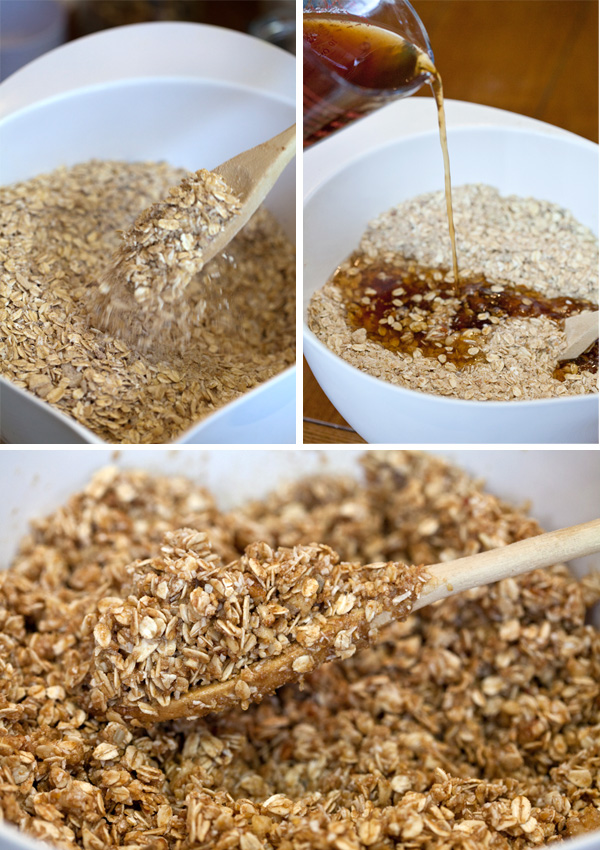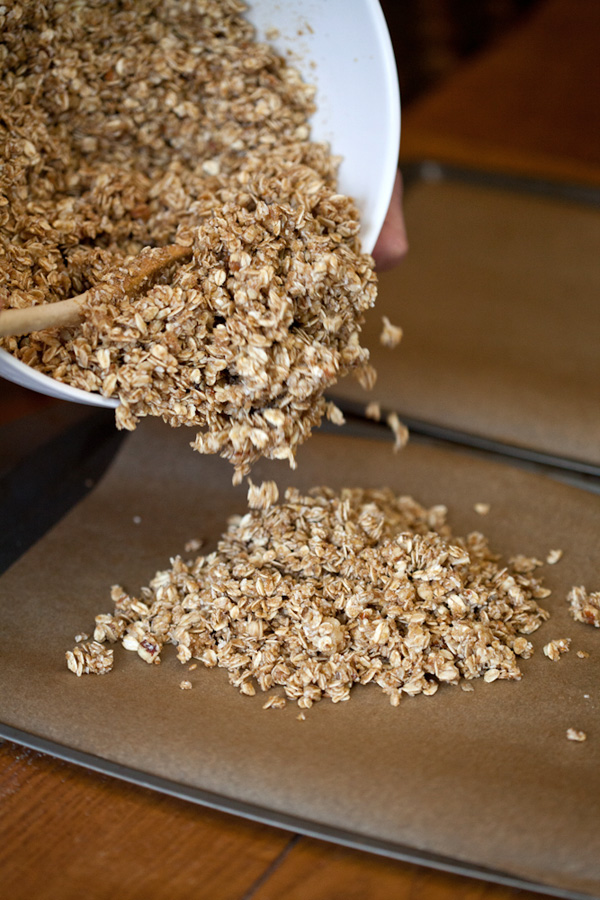 Add fresh, frozen or dried fruit and and milk or yogurt.  For a yummy dessert add a few chocolate chips and serve it over ice cream or frozen yogurt.